Hidden deep within the cluttered ecosystem of Philly's nightlife scene, lives a gem quietly hidden from Sunny fans for years until now. The bar's name itself, "Mac's Tavern", is a IASIP fan's easter egg, giving a subtle clue to the true intentions of the pub's founders which include none other than Rob and Kaitlin McElhenney, our beloved Ronald MacDonald and Dee Reynolds.
Sure the bar has some minor differences: you won't find a water stain of the Mother Mary and their Jesus-on-the-cross is admittedly small (I mean the amount of blood they would need to do it right alone… it would scare the customers). But that is basically where the differences end. As we uncovered, the bars are otherwise two McPoyles in a pod.
The website for Mac's Tavern has an "about us" page that tries its best to make it look like any other upscale bar in Philly's Market Street scene, giving zero clues to the hidden connection with TV's Paddy's. But us obsessed fans know, that's just a test by the Master to weed out less dedicated would-be pilgrims. Here's our indisputable proof that Mac's Tavern is Paddy's incarnate.
1. Removable signs and ice cold Coors
Just like Paddy's from TV, if you walk too fast past this pub, you just might miss it. Mac's Tavern isn't the kind of place that would ever serve you gin from a jar like a bunch of jabronis. But they do clearly understand virus marketing campaigns as evidenced by their easy-to-remove signage and neon lights advertising things like "Coors" (ice cold presumably). We didn't see it with the sign taken down, but we imagined it would look pretty cool.
2. Really, really thin flat screens, birds behind the bar, and drunk, punchy whores
The bar was pretty crowded. Was this because of their excellent service and drink specials? Knowing Paddy's, it was more likely an advanced scheme they worked out with the local high school teens, but I didn't want to overthink it.
Two things were for sure: They had a remarkably thin flat screen TV (for diaper time and busty weather reports) and plenty of giant birds behind the bar. But good luck trying to get your drink order in over the loud drunk, punchy whore across the bar that was clearly trying too hard to impress her friends by dominating the conversation.
I mean to be honest, the servers continuously asked if they could get me anything, which kind of killed the Paddy's vibe. But I quickly saw through their test and hurled an endless barrage of bird-related insults until they ignored me completely for the remainder of my stay. Classic Paddy's move.
3. Great Irish eats
If there's one thing Paddy's knows how to do it's how to throw a proper Philly Beef'n'Brew! And Mac's Tavern didn't leave me wanting. Granted they didn't make it very clear who's mom the Beef'n'Brew was raising money for. And when I ordered my beef they kept asking me if I meant the habanero curry wings, but overall it was the best stewed beef and cabbage I've had in years.
The beef was subbed out for delicious fried chicken wings and the cabbage caramelized into this awesome habanero curry flavored sauce that was out of this world. Never since Dave and Busters has the beef been this top notch. (Note: Dave and Busters cards are NOT accepted here).
4. Mad-cap abduction adventures with hateful bar critics
I got a little sad when, while smiling expectantly, I wrote a nasty yelp review and ordered a Chardonnay from the bird behind the counter, only to be served said beverage with kindness and civility, instead of the hateful slur I was clearly soliciting in a place like Paddy's. But then I realized the game they were playing.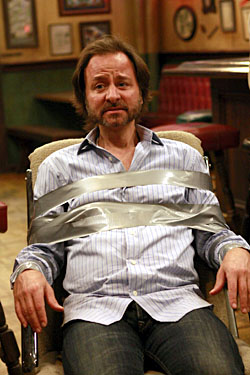 Geniuses like the Gang aren't going to just give away the real Paddy's experience to every bozo that walks in the door. They expect you to go get it. It wasn't fast or easy, but with a little digging through the darker parts of Philly's Craigslist, I was able to locate a nice couple members of a local "gang" who were willing to tie me to a chair and touch my privates in the restroom while I tried to use the urinal in violent protest. I was disappointed that Mac's didn't go the extra mile with the windowed glory hole, but I understand it's a code violation, so we'll give them a pass.
After wrapping up our IASIP re-enactment at Mac's Tavern with gang members "Tron" and "Luscious" I shared some interesting substances and woke up in my neighbor's bed with a head wound and yesterday's paper, remembering fondly my amazing real-life Sunny adventure.
So hurry down to Mac's Tavern and experience the "real" Paddy's in Philadelphia before word gets out and it loses its genuine Paddy's feel. Tell'em Mac sent you!